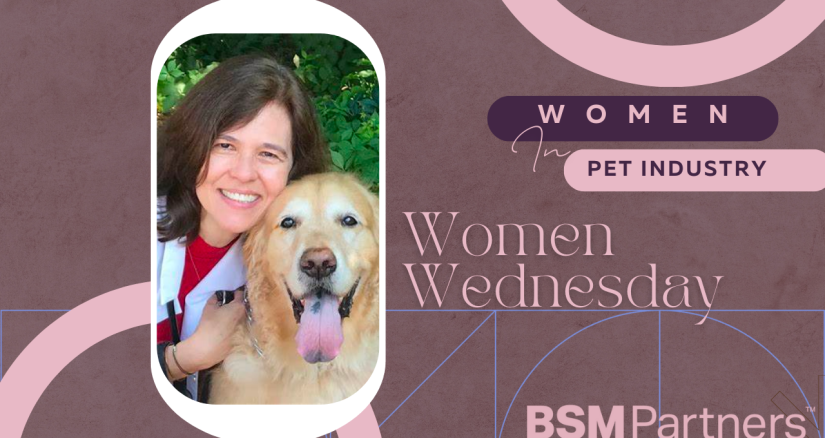 Women in the Pet Food Industry: Board Certified Veterinary Nutritionist® Dr. Laura Eirmann, DVM, DACVIM (Nutrition)
I've always known I wanted to be a veterinarian, but once I made it to veterinary school, I quickly realized there were many avenues to pursue. As my passion for nutrition grew and I began specializing as a veterinary nutritionist, three typical avenues were described to me: academia, clinical practice, or industry. Veterinary medicine in recent years has had a growing representation of women in clinical practice and academia, however industry remains more typically male dominated. While I had many influential female professors and mentors in clinical practice and academia that have had a notable impact in my career path, and on the lives of very many animals, there were not all that many women I knew in industry. However, when I began to consider influential veterinary nutritionists in industry, Dr. Laura Eirmann is someone who instantly jumps to mind. Her commitment to nutrition and education, as well as continuously striving to put that knowledge towards improving the industry, has paved the way for future veterinary nutritionists, men, and women alike.
We asked influential women in industry a series of questions relating to their experience and Dr. Laura Eirmann had the following to say:
How did you get your start in the pet industry, and how did that experience lead you to where you are now?
I was hired by Ralston Purina in 1998, five years after graduating from veterinary school, to join the team of technical service veterinarians in the veterinary marketing division. I had previously been an instructor at my veterinary school alma mater, then in clinical practice as a general practitioner. I was interested in nutrition and thought this would be a good way to learn more about nutrition while also working again with veterinary students, since the job included visiting universities on behalf of Purina. I continued to practice evenings and weekends when I wasn't traveling for the industry job. That allowed me to concurrently gain from industry the broad perspective of feeding a population of pets a commercial pet food while at the same time gaining the clinical experience of making nutrition recommendations to meet the needs of the specific pets and their families in the exam room.
What is top-of-mind for you and/or your business in the industry right now?
When I started in industry there wasn't as much access to information from so many sources. This can be a blessing, but it can also be overwhelming and confusing. I think it is so important to help individuals sift through the information to make educated decisions for their pets. In addition, the pet's veterinarian and the pet's response to a food will let them know what is best for that individual. Both industry and veterinarians have the responsibility to provide accurate, unbiased information that provide families with the education and tools to select the food and feeding strategy that works best for that pet in that household.
Tell us about a professional accomplishment in the pet industry that you are proud of.
I'm proud and grateful that I pursued a clinical nutrition residency and became a Board Certified Veterinary Nutritionist®while working for a pet food company and for a busy veterinary hospital. The residency gave me broader knowledge since I was able to learn from expert mentors in both industry and academia. It gave me deeper understanding and respect for the complexity of nutrition. I came to industry thinking I knew a bit about nutrition but now I have a clear appreciation for how much still needs to be discovered in this fascinating discipline.
What advice would you give to young people starting their careers in this industry?
Read a lot, ask a lot of questions, remain curious, and be a critical thinker. Be willing to try something new and different since there are many different paths within the pet care industry.
What is something about the pet industry that people outside of the industry may not realize?
Nutrition is complex and it requires diverse expertise to create a complete and balanced pet food. This is a huge responsibility that takes a team of experts with different perspectives including food scientists, ingredient specialists, nutritionists, veterinarians, quality control experts, packaging engineers and more. When I started in industry, I didn't know how little I knew and I'm still learning every day. I'm also not sure those outside of industry realize how deeply individuals in the pet industry love animals. For many of us, it's what drives us to excel in what we do.
Just for fun, do you consider yourself a dog person or a cat person? If you have pets of your own, tell us a little bit about them.
I'm both but, due to family members' cat allergies, except for the vet school and internship years, I've always lived with dogs. I'm fanatically in love with Golden Retrievers. The Golden I had as a child is the reason I became a veterinarian, so I owe him (and the breed) a lot. We now have Hubble, a 4 year old Golden named after the telescope. He loves camping with us and participating in Golden Retriever Jubilees. These fun events help raise awareness and funds for the Morris Animal Foundation Golden Retriever Lifetime Study.
Any final advice for other women in the pet industry?
It's a wonderful and rewarding career path with many opportunities. Be proactive and follow the path that matches your interests and talents. Look for mentors. The pet industry if full of outstanding role models.
About the author: Dr Sarah Wilson DVM DACVIM-Nutrition is a Board Certified Veterinary Nutritionist® and is Director of Veterinary Nutrition within Nutrition Services at BSM Partners. She has practiced clinical veterinary medicine as well as specialized in Veterinary Nutrition. She enjoys working as a consultant on all things veterinary nutrition. In both a clinical setting for individual patients, and as a consultant for the pet food industry, providing appropriate nutritional advice on a small scale (single patient) or on a large scale (industry) allows Dr. Wilson to talk about her favorite things all day long: food and pets!
Follow us on LinkedIn for the latest updates on all things happening here, at BSM Partners.
This content is the property of BSM Partners. Reproduction or retransmission or repurposing of any portion of this content is expressly prohibited without the approval of BSM Partners and is governed by the terms and conditions explained here.