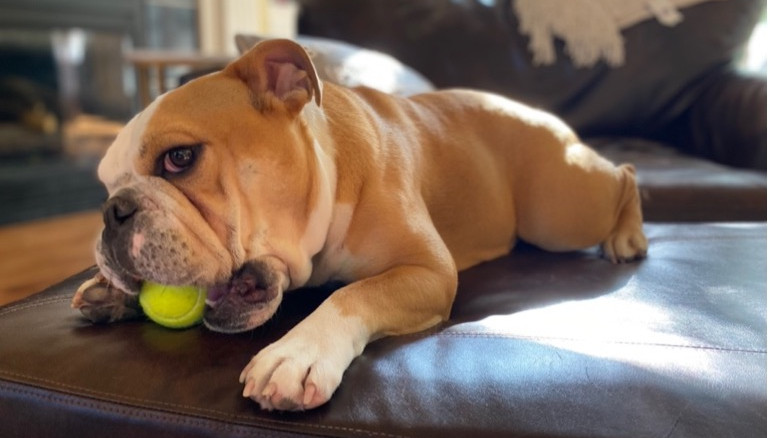 The World According to David- Part I: Bulldog or Ball Boy?
Tennis, tennis, and more tennis
The time has come for the last Grand Slam tennis tournament of the year. It is the US Open! The Open signals the end of summer and beginning of fall, which is my absolute favorite time of year. I try my best to avoid social media so the matches I have recorded are not spoiled before I can watch them and look forward to the evening matches I am able to watch in real time. After work is over and the family is finished with dinner, it is tennis time in the Perez household.
Naturally the only thing on the living room tv is tennis, which the kids have begrudgingly accepted as an absolute for the tournament's two-week duration. The house is filled with the sounds of crowds cheering, shouts of "fault" and "out" from the chair umpire and the snoring of my English bulldog, Roland, who is asleep on the couch next to me.
He's a natural born player!
Please do not mistake his snoring as indifference or boredom because it is quite the opposite. The truth of the matter is that Roland loves tennis. Through hours of dedicated practice and hard work, he has mastered the art of finding and destroying tennis balls regardless of whether or not he is supposed to have them. There is nothing quite as surprising as being on the tennis court, reaching into my bag and pulling out a deformed, slobber-soaked ball. So yes, he has been known to stick his massive head into my tennis bag and chew on any loose ball he finds.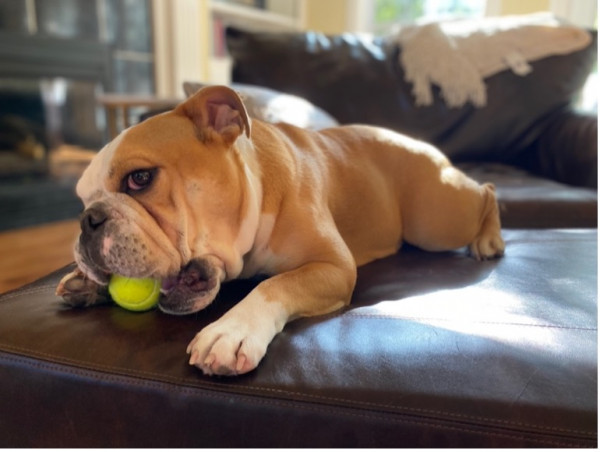 Bulldog or ball boy?
Just like the ball boys and girls that run after tennis balls on court, Roland too enjoys the thrill of the chase. If you throw the ball, he will run. He will run for hours; well, he would run for hours if he was not exhausted after a couple of minutes. After four or five rounds of fetch he tends to get a little tired and typically hops up on the ottoman to chew on the ball a little more. Sometimes Roland will even play fetch with himself by dropping the ball over the edge of the ottoman and letting it roll a few feet before pouncing like a hungry lion, or in his case a hungry teddy-pig.
What's a teddy-pig?
Yes, you read that correctly; we call him teddy-pig. Why do we call him teddy-pig you might ask? Well to the Perez family he looks like a cross between a living teddy bear and a pig. He also displays all the classic teddy-pig traits like grunting, cuddling, drooling, and patiently waiting for you to give him food while ever so delicately placing his chin on your leg during dinner. We call that particular move "collecting the snacks tax." You must pay the tax or suffer the dire consequence of his heavy jowls.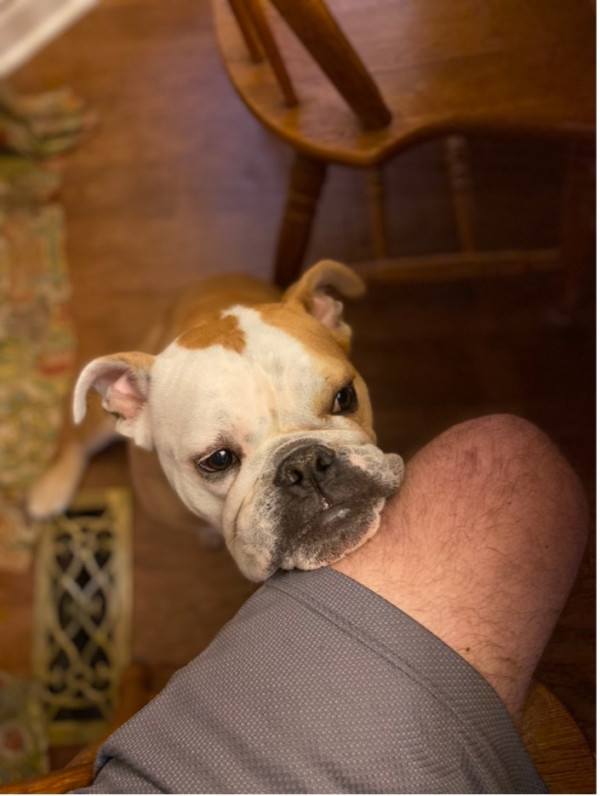 What's next?
After the US Open concludes, there's no major tennis coverage on tv until the Australian Open arrives in January. That is four months with no tennis which is a long time in dog years. During this "off season" Roland continues his conditioning and training in between naps and collecting his snacks tax.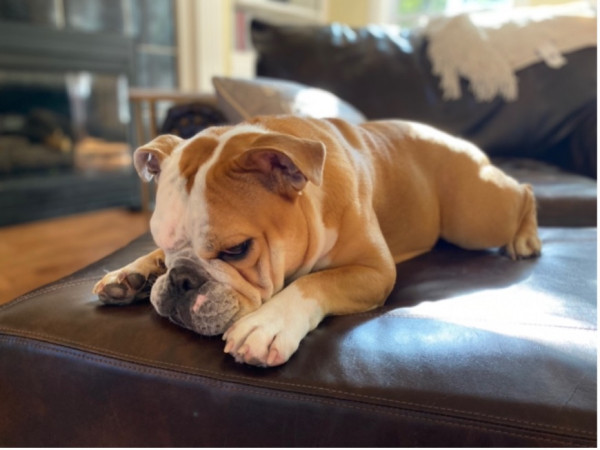 About the Author: David Perez works at BSM as Vice President, Product Innovation. His areas of expertise include formulation and product development, along with project management. Outside of work, David can be found playing tennis, making music, and watching scary movies.
Follow us on LinkedIn for the latest updates on all things happening here, at BSM Partners.
This content is the property of BSM Partners. Reproduction or retransmission or repurposing of any portion of this content is expressly prohibited without the approval of BSM Partners and is governed by the terms and conditions explained here.