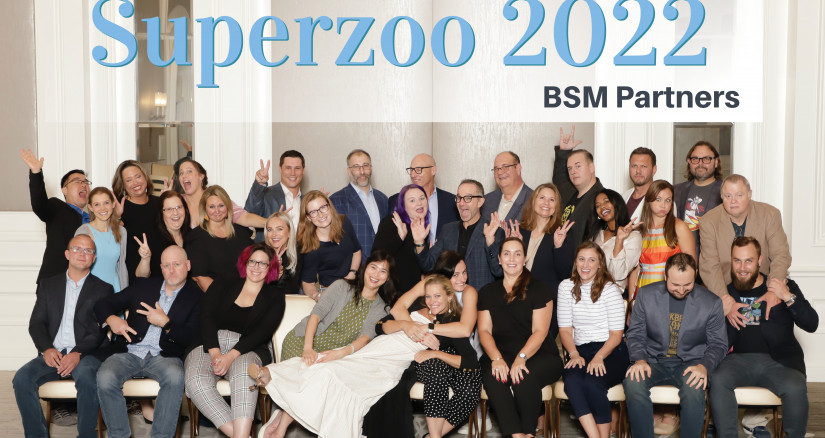 First Time at SuperZoo
I recently had the opportunity to attend my first SuperZoo in Las Vegas. For those unfamiliar, SuperZoo is an annual tradeshow for the pet industry and features companies producing a range of products from food and treats to grooming products and accessories. This year's show featured 1,023 exhibitors, which ranged in size from start-ups to large corporations.
Coming into the show, excitement builds as attendees are treated to the golden towers of Mandalay Bay and Delano and the glimmering fountains of the Bellagio as they travel through Las Vegas. This is a fitting destination for the show, given its sheer magnitude of it. I have previously been to various trade shows and scientific conventions, both during graduate school and while working for BSM Partners, though they have been smaller in scale and scope compared to SuperZoo. While there are many topics I could write about, I will focus on a few aspects that stood out to me as I was walking the floor.
The new product showcase
Near the outside edge of the showroom floor is an area called the new product showcase. Inside are products that have recently been released or are coming to the market, and they span across all companion animal species. While this portion of the show is considerably smaller than the rest, it was exciting to see exhibitors' innovation and where the industry is headed.
New technology in the pet industry
As someone with a particular interest in and great appreciation for technology, it was fascinating to see products introduced that have begun to incorporate emerging technologies. For example, companies are beginning to introduce smart feeding systems for pets. Personally, I see this area as an excellent opportunity for the pet industry. As we obtain data and improve computational power, there will be increased opportunities to harness machine learning and artificial intelligence to improve pets' nutrition, health, and well-being.
Networking
Of everything SuperZoo has to offer, I have to say that my favorite part was the time spent with colleagues, clients, and friends. Being a remote company, most of the interactions we have with each other are over email or Zoom. Although infrequent, the opportunities to spend time with each other, strengthen bonds, and get to know each other on a more personal level are invaluable. These opportunities help to build trust and help us to work together as a more cohesive team. I feel that I got to know new and old colleagues better simply by having dinner or drinks with them after the show. Interacting face-to-face with our clients helps build a strong rapport, which can ultimately translate into greater idea sharing and innovation. It is also exciting to see all of the products that we work on come to life, with beautiful packaging and captivating marketing.
Overall, I left the show excited about the future of the pet industry, with a greater appreciation for its ingenuity and depth. The future is bright with many opportunities, and I am excited to get to work to help bring all of these new ideas to life. I can't wait to see what next year's show has in store.
About the author: Chuck Zumbaugh, MS, Ph.D., works at BSM Partners as an Assistant Manager in Nutrition Services. He has experience in biochemistry, chemistry, and animal nutrition. Outside of work, he enjoys spending time outdoors in Kansas.
Follow us on LinkedIn for the latest updates on all things happening here, at BSM Partners.
This content is the property of BSM Partners. Reproduction or retransmission or repurposing of any portion of this content is expressly prohibited without the approval of BSM Partners and is governed by the terms and conditions explained here.