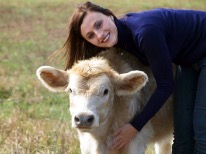 Choosing A Career in Pet Food
Facing the decision of what you want to do for a career is one that is usually a bit of trial and error through various experiences. It is these experiences that shape our future careers. I get asked regularly how I ended up working in the pet food industry as many people seem shocked it was even a career worth considering. You can ask anyone in BSM Partners, and you will get a variety of answers relating to the journey that led them to this industry. What I am about to share is my journey and the experiences that brought me to where I am today.
My path was shaped from a very young age as an avid animal lover. I grew up riding horses, raised black labs, participated in 4-H, lived in an agricultural community, and had an enduring love for all animals. I knew from an early age that I wanted to work with animals in some capacity. Like many others, my journey started with my arrow pointing towards veterinary school. Everything I did was in preparation for a future in the veterinary profession. I was dedicated to sharing my love of animals with the world and enriching the lives of as many animals as possible.
I started my college journey as an animal science major at Purdue University and landed a summer internship at my local vet clinic after that first year. The clients and animals I met helped shape future decisions that would lead me to where I am today. I experienced many things, including hearing funny stories of clients' pets, the intensity of surgery, miraculous recoveries, consoling clients during times of loss, and being the last smiling face a pet will see before crossing the rainbow bridge. I began to understand the immense strain this would have on me emotionally and was not sure this was something I was cut out for. I knew my emotions could impede my ability to do what was in the best interest of the pet, and that is when I began to reevaluate my other options.
I can remember the week before my sophomore classes were set to start and feeling unsure of how to live out my dream of helping animals without being a vet. I could not see a career working with animals if I did not think vet school was right for me. It was in a meeting with my counselor, Gwen Shoemaker, that she asked if I had ever considered food science as an alternative to animal science. I looked at her with a questioning look of confusion. She began to tell me about this amazing professor, Dr. Kirby Hayes, in the food science department and how she thought it might be worth trying just one of his food science classes. She felt Dr. Hayes Intro to Food Science class would be a good way to see if it captured my interest and explained how there is an industry need for pet food professionals. I reluctantly agreed to give it a shot while still keeping with my other animal science core classes.
Walking into Dr. Hayes class a few days later was like dragging me to the dentist. I knew I had to go but dreaded what lay ahead because it did not seem to possess the answer I was searching for. During this first class, I can honestly say I never expected to learn so much about Jell-O, which altered my perspective on food, and changed my feeling of uncertainty to one of endless potential. I immediately walked back to my counselor's office and requested her to change my major from animal science to food science.
Over the course of the next several years, I was challenged through my coursework, but it was my goal of working in the pet food industry that kept me going. Anyone who has taken one of Dr. Maribeth Cousins' food microbiology classes can relate to my challenges. I can remember getting strange looks when I would say my goal was pet food during class introductions. I learned that most people started out working in human food before moving over to pet food. It was a novelty to have a student back then that wanted to go directly into working in pet food. I continued some of my animal science courses to get a pet food processing minor to go along with my minor in biology and a bachelor's in food science. I tackled subjects ranging from food chemistry, food microbiology, food processing, food packaging, and sensory analysis to name just a few.
I worked in the sensory lab in the food science department in between classes and worked evenings at the vet school cleaning and prepping surgical kits. I was determined and kept focused on my goal over the course of my five years of undergrad. Yes, my change in degree plan added an extra year to my undergrad, but I am so grateful that I made that change. If I had never had that conversation with my guidance counselor and taken a chance in Dr. Hayes' class, I would not be where I am today. I am so grateful for what they did for me. Sometimes taking a step outside your comfort zone and trying something new can present amazing results.
I successfully achieved my goal in October of 2008, by landing a job with a major pet food company working at their research and development facility in Terminal Island, CA. I finished out my last few months before packing up and heading west for my new life in pet food after graduation in May of 2009. Over the past 12+ years of my career, I have had the privilege to have worked on some of the biggest brands in the pet food industry.
Not every day was glamorous or without challenges. Days working on the plant floor can be messy and stinky. You will be faced with late-night trial runs at the factory and equipment challenges. A life in product development in the pet food industry is full of so many unique opportunities and challenges. It is because of this that I found a home in this industry. I loved having every day be different from the next and being able to make a difference in pets' lives. I have consumed more pet food over the years than I would like to admit but always felt that the best way to know your product was to try it yourself.
There are so many avenues you can explore for careers in pet food. I hope that my journey will resonate with some of you and inspire you to step out of your comfort zone to try something different. In my opinion, it is in these moments of exploration that we experience some of the best things in life. Pet food does not have to be food science related. There are other opportunities through animal science, marketing, sales, human resources, engineering, and much more. If you think a future in pet food is something of interest to you then I urge you to start conversations with your guidance counselors, reach out to speak with folks in the industry, and attend pet food tradeshows to learn as much as you can. The opportunity to make a difference in the pet food industry and pets' lives is a rewarding experience and the need for new talent is increasing every day.
About the Author: Heidi Wilson is the Business Development Manager for BSM Partners and comes with over 12 years of experience within the pet food industry. Before joining BSM Partners, Heidi was focused on pet food product innovation, private label development, and e-commerce execution. She resides in central Texas with her dogs, cats, mini pigs, donkeys, and a horse.
Follow us on LinkedIn for the latest updates on all things happening here, at BSM Partners.
This content is the property of BSM Partners. Reproduction or retransmission or repurposing of any portion of this content is expressly prohibited without the approval of BSM Partners and is governed by the terms and conditions explained here.